PERIBOARD-612 B - Wireless 2.4G & Bluetooth Ergonomic Keyboard for Windows & Mac
Ergonomic Split-Key Design -

Integrated palm rest

supports your wrists, releases median nerve pressure, and reduces forearm tension. This mouse allows for a natural arm and hand position while typing to

minimize chances of RSI and carpal tunnel syndrome

Wireless 2.4 GHz and Bluetooth Connection -

Switch between two connection

options at the bottom of the keyboard for seamless device switching. The nano receiver is stored safely in the compartment at the bottom of the keyboard for easy storage for travel.

Dual Operating System -

Compatible with Mac and Windows

including shortcuts and function keys as well as 4 additional

switchable keys

for Mac of Windows key layout and a key puller is also provided in the box
Tactile Responsive Keys - With

long travel distance

between keys, this keyboard gives a satisfying typing feeling and decreases your chances of mistyping
Dimensions - 

19.09 x 9.29 x 1.73 inches

Weight - 

2.2 lb

System Requirements - Windows 7, 8, 10 and above, macOS Big Sur 11.3.1 and above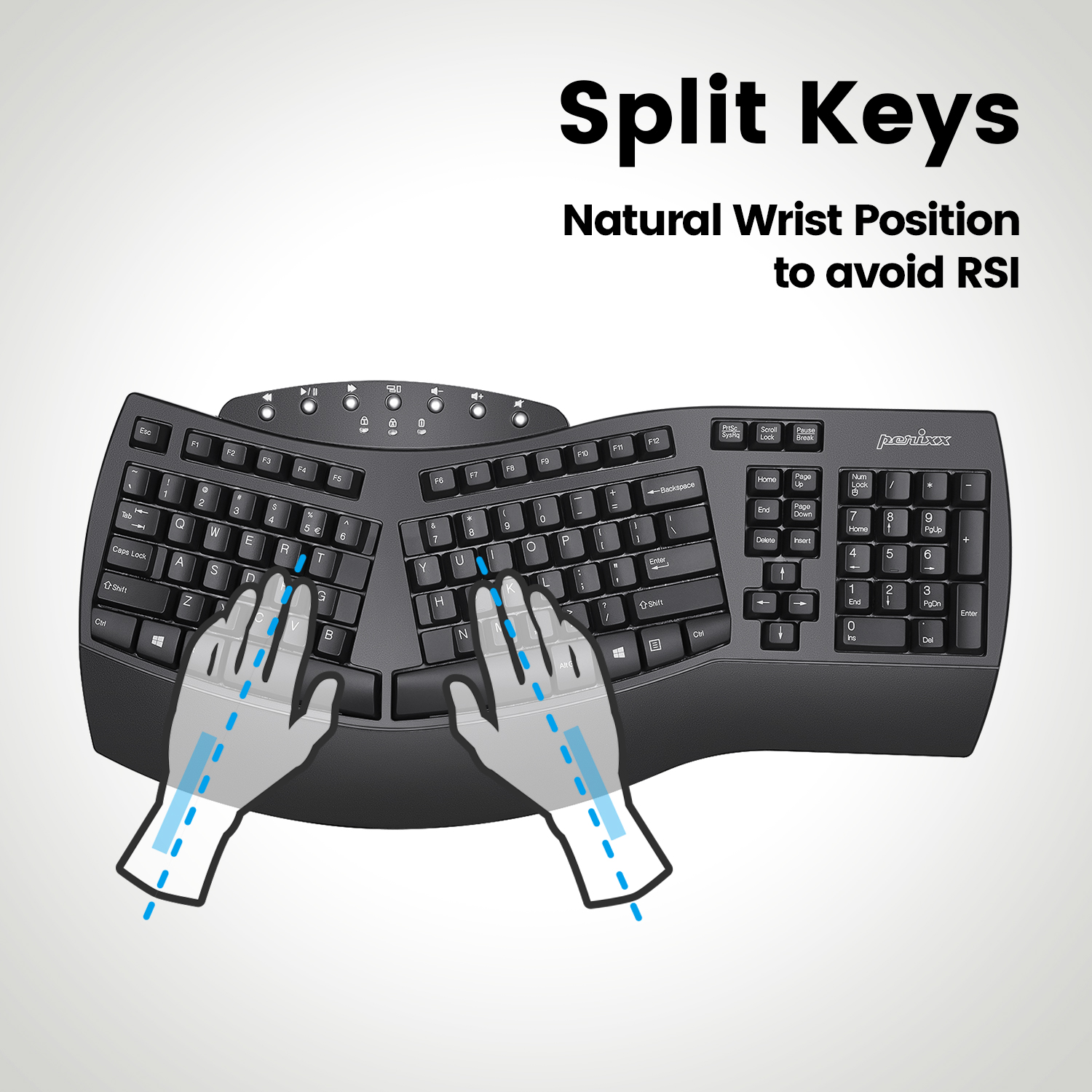 Periboard-612
PERIBOARD-612 is a wireless dual-mode keyboard with an ergonomic 3-D split key design. You can switch between default 2.4GHz and Bluetooth 4.0 connection, and also between Windows and Mac layout with additional switchable Mac keys.
The Split key design and the integrated palm rest conforms to your natural arm and hand position, reducing the pressure on the median nerve and forearm tension that causes carpal tunnel syndrome.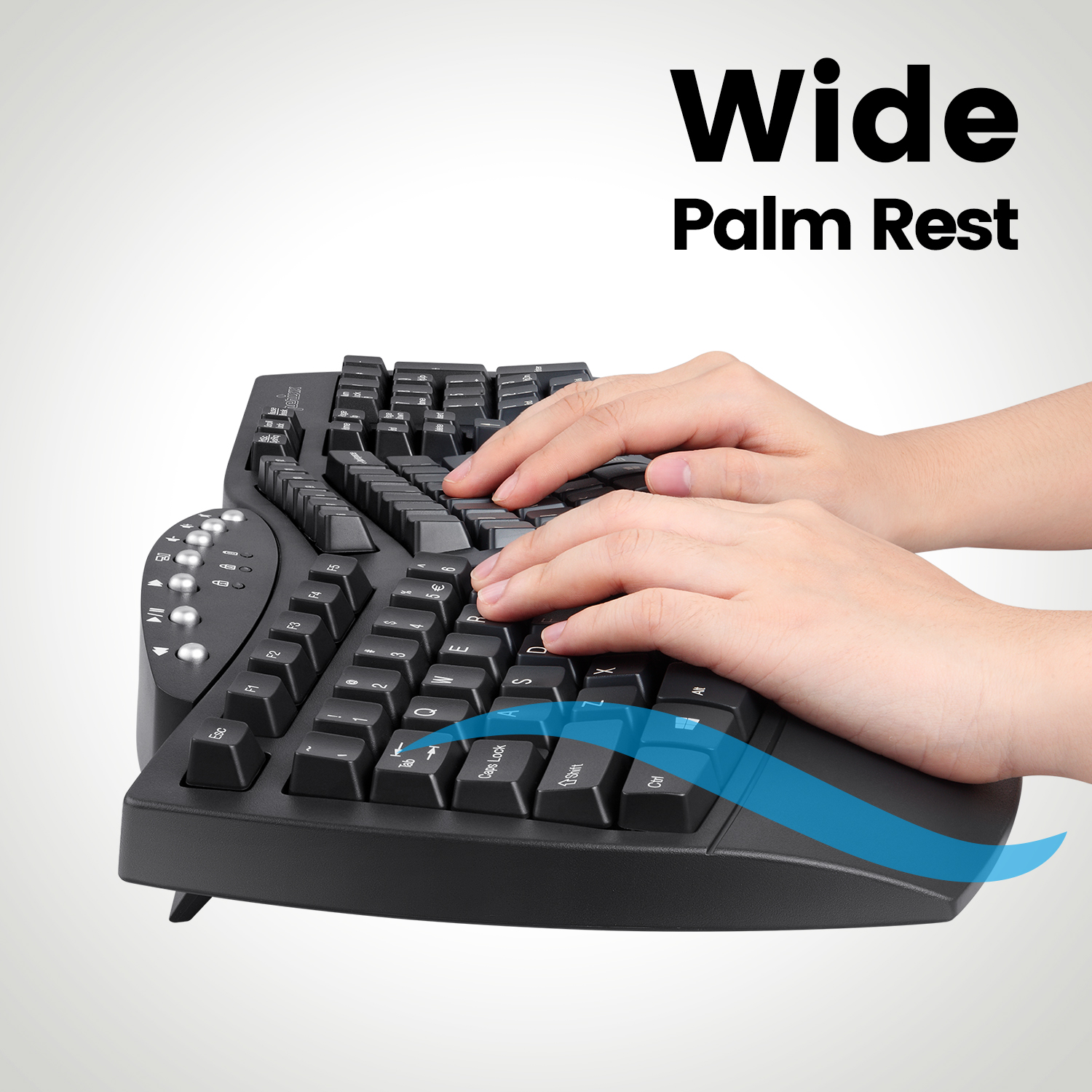 Integrated Palm Rest
Type comfortably with the large built-in in palm rest that was designed to provide comfort while typing even during long working hours.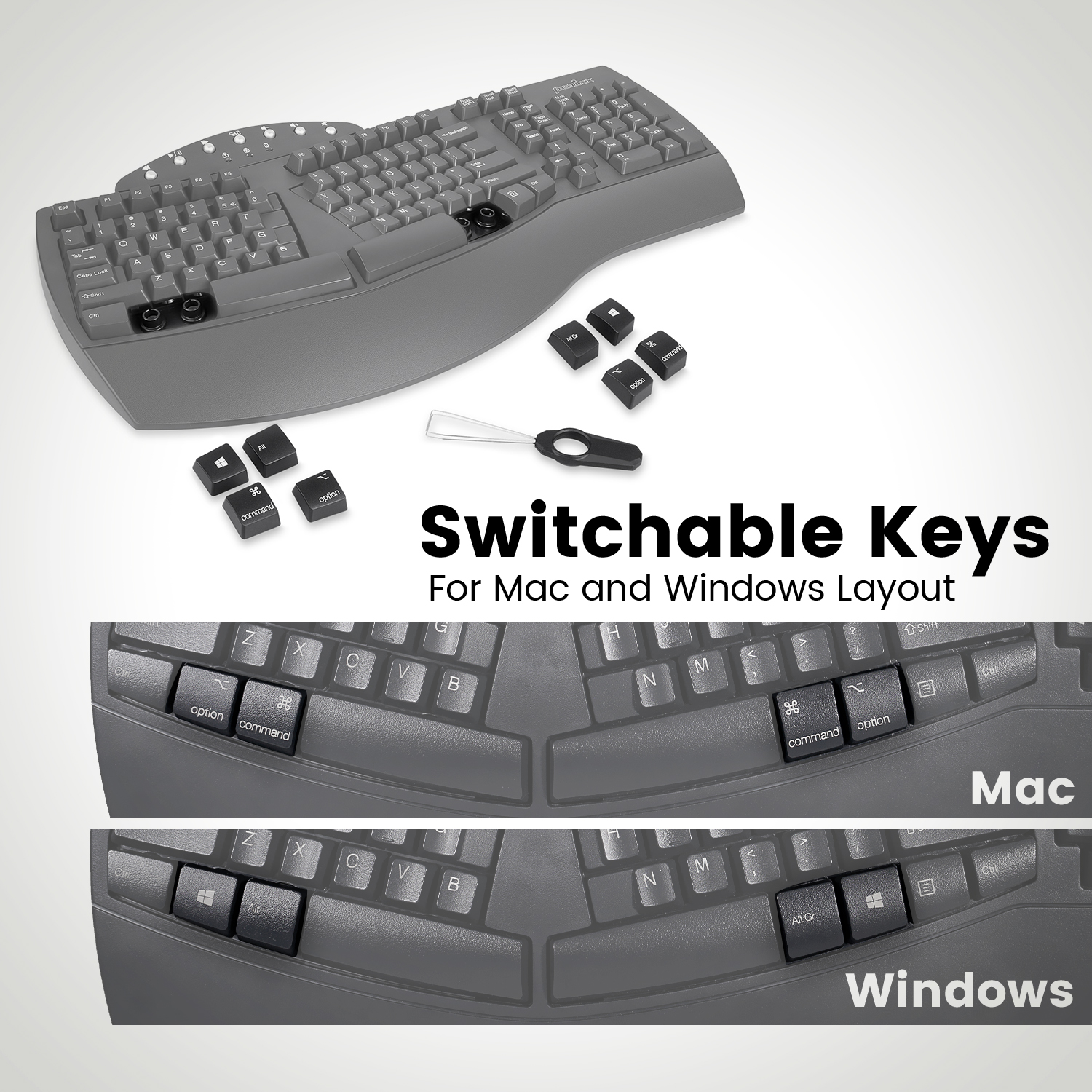 Convenient Multimedia Keys
Equipped with 4 additional switchable Windows keys to adjust the keyboards layout between Mac and Windows, the keys puller included in the package.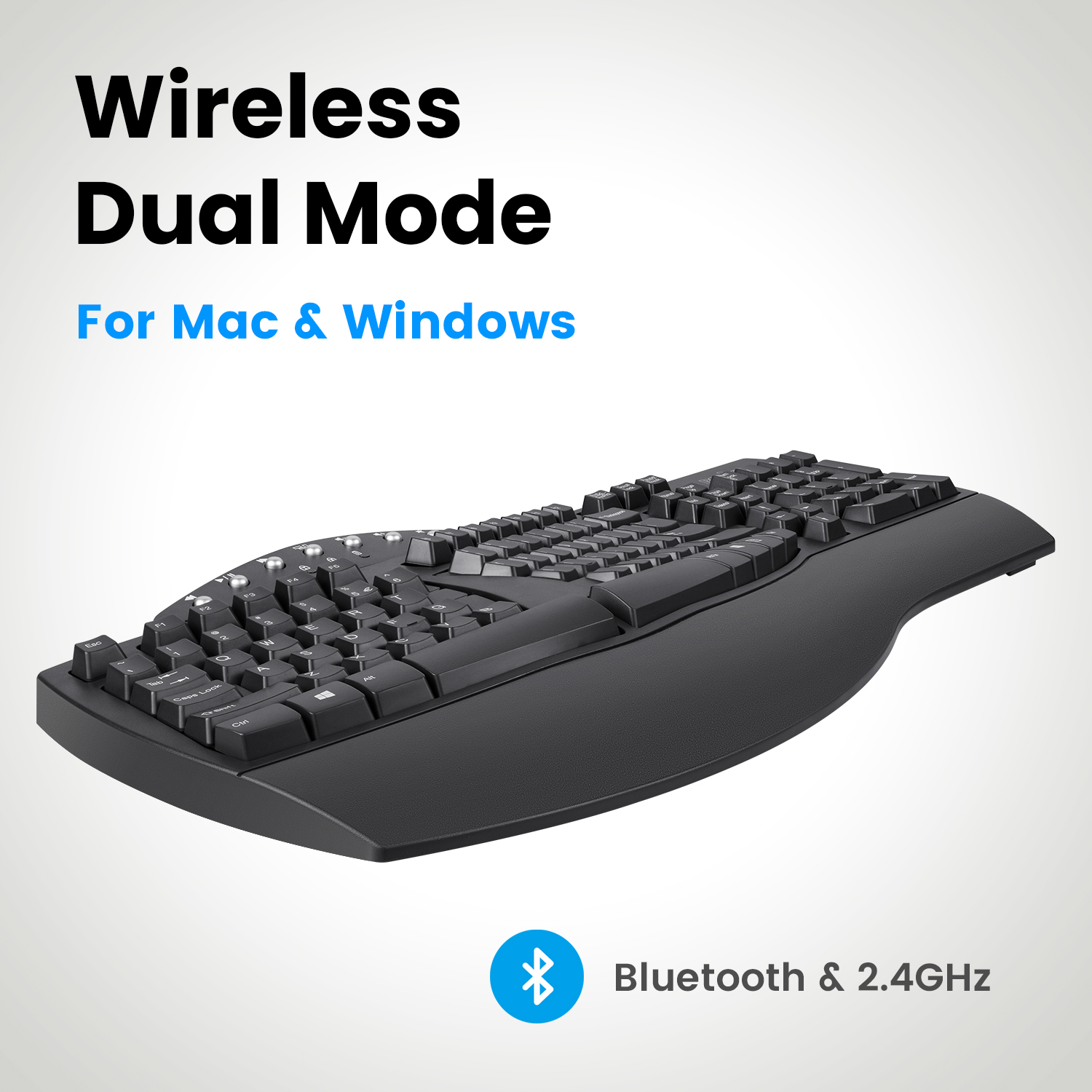 Dual Operating System: macOS X and Windows
PERIBOARD-612 is compatible with devices running macOS X (default setting) and Windows operating system. To change the operating system, you can easily change the switch at the back of the keyboard. System requirements: Windows 10 and macOS X 10.10 and above.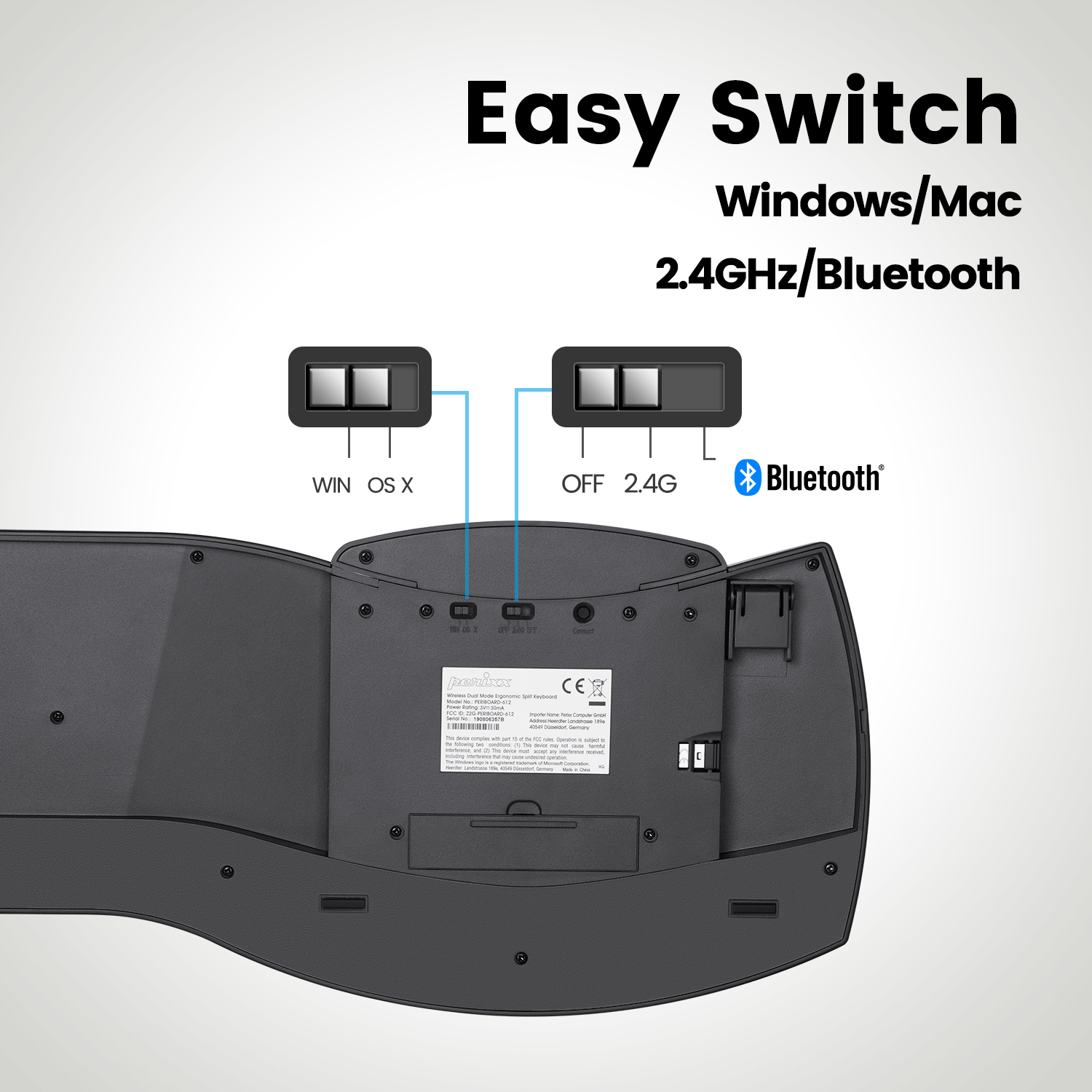 Dual Mode between 2.4GHz and Bluetooth 4.0
Switch easily between 2.4GHz and Bluetooth 4.0 connection of your preference with the button on the backside of the keyboard. 2.4GHz Nano receiver is stored in the compartment on the bottom of the keyboard and ready to use.
PERIBOARD-612 uses 2 alkaline AA batteries (not included in the package).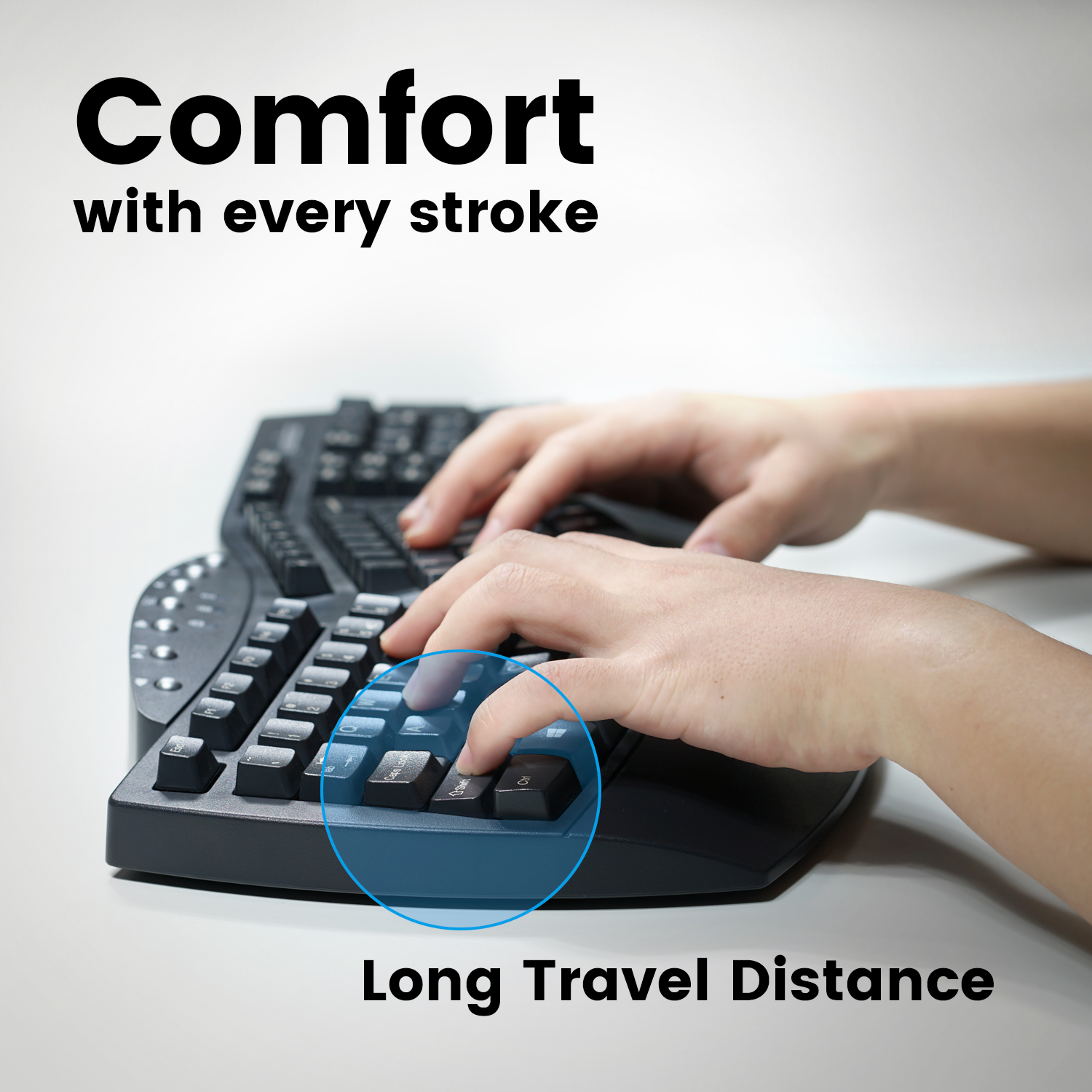 COMFORTABLE TYPING EXPERIENCES
The key-mechanism is designed to require a lower activation force while still managing to provide full travel distance. This provides a comfortable typing experience and at the same time, the height of the keys provides a tactile and responsive typing feeling.