PERIDUO-606 - Wireless Ergonomic Combo
All-In-One Compact Combo - Mini keyboard and mouse value kit with split key design and without number pad area; Portable slim keyboard design with curved keytop geometry with naturally arched shape and integrated adjustable palm rest stand that promotes a neutral wrist position
Wireless Connectivity - 2.4 GHz wireless technology with approximately 33 feet (10 meters) operating distance; One Nano USB receiver for both mouse and keyboard; You can find the receiver in the receiver compartment located on the backside of the keyboard
Split-Key Keyboard - A one-piece design that simply separates the keys into two groups for the left and right hand to reduce bending your wrists outward while typing; Designed specifically in order to reduce the pressure from your hands while computing and give you the benefit to type relaxed and effortlessly
Silent Vertical Mouse - 5-button mouse with ergonomic design and adjustable DPI resolution (800 / 1200 / 1600)
Easy installation with Plug and Play feature.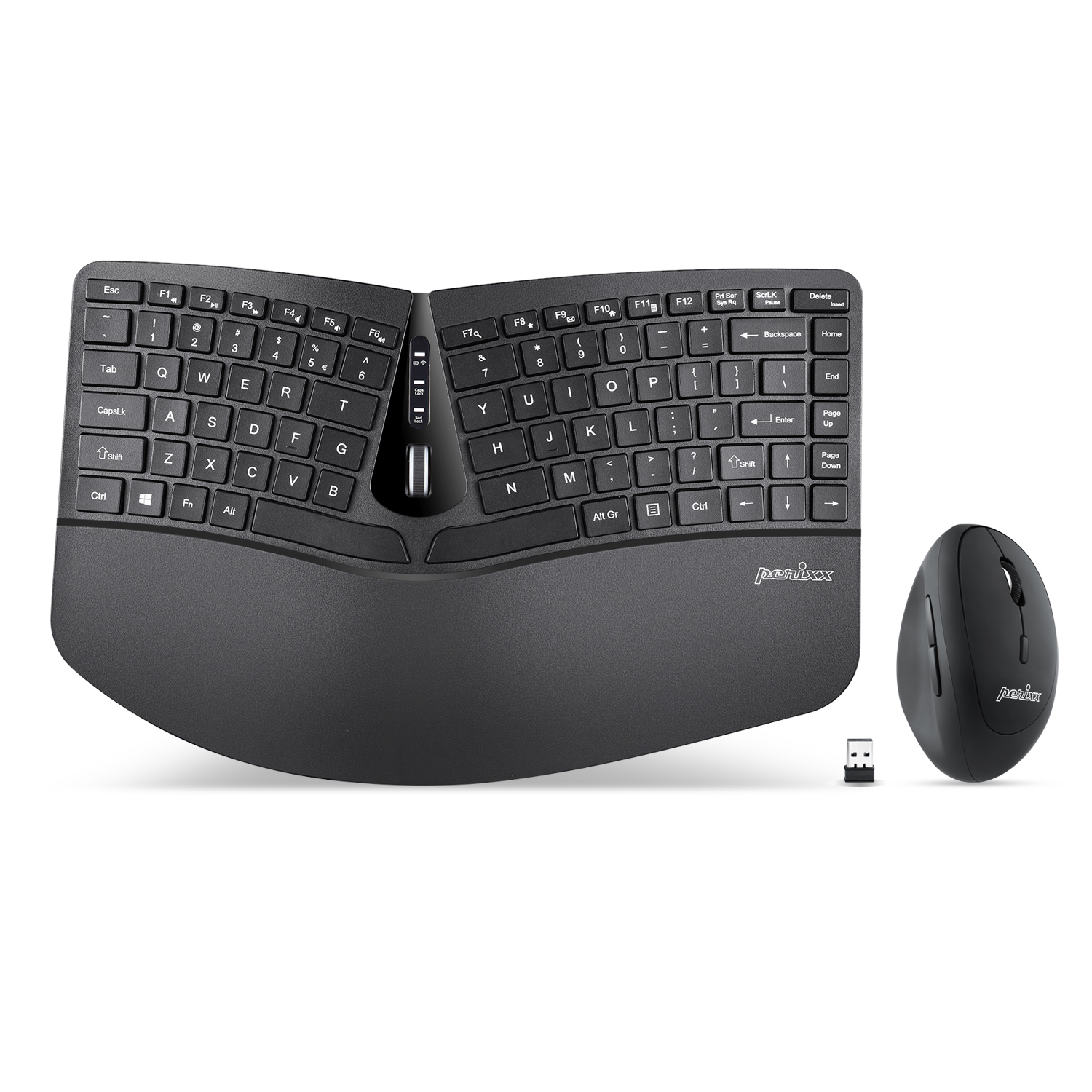 Compact 3D-Split Keyboard
A compact, wireless keyboard with a split key design. The keys are separated into two groups for the left and right hand to reduce the outward bending of your wrists while typing.
Comfort and convenience
The tilt scroll wheel of the keyboard can be tilted 4 ways for page navigation (up, down, left, and right). Additionally, this product comes with a built-in tilted stand to adjust the height to suit your arm positions.
True ability to adjust to your perfect d
This product has adjustable feet for those who need to see the keys more easily, and it also comes with a magnetic palm rest extender that can be attached to the bottom of the palm rest. This accessory will give you a negative tilt for a neutral wrist position.
Silent Click Vertical Mouse
This set comes with a wireless compact vertical mouse with two levels adjustable sensitivity of 800/1200/1600 DPI. This vertical design provides you a comfortable tracking movement for long working hours.
The mouse is equipped with 5 buttons (left-click, right-click, scroll wheel, forward, backward). Also, a silent-click feature that eliminates noise and distractions for you and others around you.
3 Ways to Adjust the Keyboard Angles:
1. Flat Straight Position: (Straight Position)
Leave out the armrest and keep the foot stand closed. Place the movable magnet outer side of the bottom keyboard. 2.Neutral Wrist Position: (Neutral Wrist Position) Keep the foot stand closed, place the movable magnet at the default position, and mount the palm rest to the keyboard. The negative slope position promotes a natural wrist angle that protects users from hand and wrist strain. 3.Positive Tilt Position: (Extended Straight Position) Open the foot stand without using the armrest. The default position of the movable magnet remains unchanged (middle bottom of the keyboard).